We Act Fast In west Texas After A Flood
8/7/2020 (Permalink)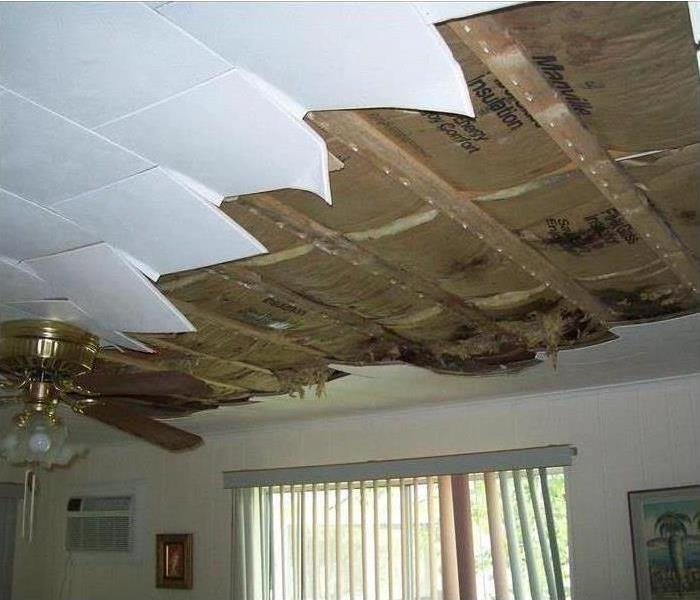 Part of the roof tore off from high winds during a rainstorm and water came down into the area, which caused damage. We arrived right away and began.
Why Bigger Is Not Always Best for Flood Extraction
You might be in the camp of people that would assume when standing water exists in your home that the best solution is the most powerful piece of equipment in the extractor inventory. While it would stand to reason that larger water removal units could relocate this flood damage more efficiently, there are multiple reasons why smaller submersible units are a better fit for the extraction needs of your residence.
Challenging Damage Areas
One of the first considerations that our responding technicians must make about flood damage in west Texas homes is the location of these effects. Accessibility is one of the most significant disadvantages to engine-driven pump systems attached to trucks in our SERVPRO Green Fleet. With a larger intake and discharge hoses and attachments, confined spaces limit the functionality of powerful truck-mounted pumps.
Longer Discharge Lines
A unit is only as good as where it can move standing water to, and while truck-mount systems can pull water at 300 psi, it requires a much shorter discharge hose length for the diameter. While higher volumes can get moved, you have to ensure that you have the right positioning of the intake unit, or it might be ineffective. Submersibles often only have a 2" discharge line, allowing it to span greater distances once water gets collected.
Multiple Units
While we might have more than one extractor truck in our Green Fleet of service vehicles, several do not typically roll out to the same job site. Our technicians can place multiple electric submersible pumps in clean water residential flooding emergencies to simultaneously move thousands of gallons of water during their runtimes. Our electric sump pumps utilize little power, so we can run multiple units off of a generator at the same time when flood damage severs electricity to the structure.
With extraction being such a vital element to flood recovery after an emergency, choosing the right tool is vital to saving customers time and money. Bigger is not always better, but our SERVPRO of Southwest Lubbock team can ensure that you get the most efficient tool for the job. Give us a call anytime at (806) 780-6311.